The Original Shock Absorbing Dog Leash
Comfortable, secure, short shock absorbing dog leash design lets your dog run, tug, and pull away to their heart's delight while keeping you on your feet.
Product Information
Cujo dog leashes are built with:

6 inches of shock absorbing stretch
The tight, short stretch gives more control over dogs that pull hard

Pick from the 25 or 40" length.
Shock absorbing design allows movement without hurting you or your dog
Comfortable handle gives you optimal control
Available extensions and multi dog couplers.
Add 2 Extensions for Tangle-Free Double Dog Walking!
Colors: Blue, Red, Black, Green Camo, Pink Camo
Features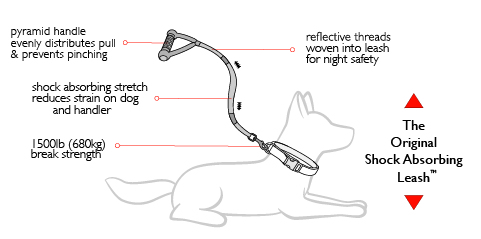 Now Go and Play!
The First Shock Absorbing Dog Leashes
What sets the EzyDog Cujo dog leash apart from traditional dog leashes is it's shock absorbing durability and control. The firm wakeboarding no-slip handle and short length are engineered to give you great control over your dog while still making it comfortable for both your pet and you. So go ahead and go hike that trail with this dog leash for active dogs! Go for a run or a romp through the park. With a Cujo shock absorbing leash, you know your dog will stay safe and sound.
Find the Perfect Fit
Every dog is different and here at EzyDog it's our mission to find the perfect fit for every dog. The options we offer in length, size, and style are what make our EzyDog dog leashes customizable so you can find exactly what you are looking for at EzyDog.
Add Standard Extensions for additional length, or add a dog leash coupler for dual tangle-free dog walking! Don't forget to add a dog collar or a performance dog harness for your brand-new leash.
64 Reviews
Great for training my rescue dog

I love rescuing dogs. But they do come with challenges. My obedience trainer introduced me to your Cujo leash to help with her training of my newest special needs dog and it had been a wonderful help. And it's comfortable for me. Great product.

This is by far the best leash that I've had to walk my 55 pound Bully with! I love it and will get another when this one wears out.

This is our second EzyDog Cujo leash. We had our first one for a little over 6 years. It is still in very good condition but getting a little faded. Our neighbour down the street told us about this leash a little over 6 years ago. She has several. They are very comfortable to hold. We also have 3 extensions. I sometimes take our daughter's 2 dogs for a walk along with our dog.

Picture looked interesting. The actual product is better than expected. I bought the one with the extension. Works great for my 80;n lab.

This is by far the best lead I have ever had.

Great Product at a Great Price

We love the Cujo Leash. We especially love the shock absorbing give in the leash if the dog lunges at a cat or squirrel! I'll buy more of theis type if and when I need another one!

I have an american pitbull terrier and she pulls really hard while I walk her. This product has made it so much easier on my hands and shoulders. I believe that it even works as a trainning aid because when my dog pulls hard out of nowhere the inner spring pulls her back and kets her know that she needs to stop that unwanted behavior. The only thing that I dont like about the product is that it frays.

Love the leash and the extension. Love that I can switch it to a quick choke mechanism if necessary. Mostly love the flexibility of the primary leash and the sturdy v shaped handle. You'd never use another leash other than this if you try it. Great product

Only leash I'll ever need

I have an Akita & A Golden. About 200 lbs of dogs. I'm loving the Cujo! I no longer come back from walks with a sore arm. I also bought the tandem so I can walk them with one hand. I'll never use a different kind of leash after finding this!