The Original Shock Absorbing Dog Leash
Comfortable, secure, short shock absorbing dog leash design lets your dog run, tug, and pull away to their heart's delight while keeping you on your feet.
Product Information
Cujo dog leashes are built with:

6 inches of shock absorbing stretch
The tight, short stretch gives more control over dogs that pull hard

Pick from the 25 or 40" length.
Shock absorbing design allows movement without hurting you or your dog
Comfortable handle gives you optimal control
Available extensions and multi dog couplers.
Add 2 Extensions for Tangle-Free Double Dog Walking!
Colors: Blue, Red, Black, Green Camo, Pink Camo
Features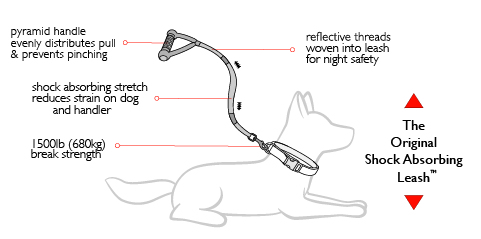 Now Go and Play!
The First Shock Absorbing Dog Leashes
What sets the EzyDog Cujo dog leash apart from traditional dog leashes is it's shock absorbing durability and control. The firm wakeboarding no-slip handle and short length are engineered to give you great control over your dog while still making it comfortable for both your pet and you. So go ahead and go hike that trail with this dog leash for active dogs! Go for a run or a romp through the park. With a Cujo shock absorbing leash, you know your dog will stay safe and sound.
Find the Perfect Fit
Every dog is different and here at EzyDog it's our mission to find the perfect fit for every dog. The options we offer in length, size, and style are what make our EzyDog dog leashes customizable so you can find exactly what you are looking for at EzyDog.
Add Standard Extensions for additional length, or add a dog leash coupler for dual tangle-free dog walking! Don't forget to add a dog collar or a performance dog harness for your brand-new leash.
61 Reviews
This is the 4th leash of this type I have purchased because I love the handle and sturdy nature of the leash. This time I also purchased the extension and am happy I did. You won't regret it!

We love the cujo leash for our husky. The handle is comfortable and the shock absorbing is perfect if she decides to go full sled dog.

Great quality leash

Hi, I've been using the classic cujo leashes for about 10 years and love them. Only had to replace once before after 7 years of use. Wanted to take a sec to vouch for the product. I've used the leash while biking with our Australian Shepherds, not to mention lots of hiking in Colorado. Also know the multi-extenders for 2 dogs is amazing. Anytime I walk someone's else's dog on their leash I'm reminded how great the Ezedog leash is. Cheers!

This is the best leash ever. The rubberized grip handle feels great in your hand. You have a level of control and comfort that a regular loop handle leash could never provide. The shock absorber does make pulling less jarring and reduces the amount of it. I have a 7 month old German Shepherd and he's strong but this leash in combination with the Convert harness make walking him so much easier. Plus they look really cool too.

I have used this product for many years and ordered a new leash set only because I have a new puppy . I still have the other two original sets from my two dogs that I had to euthanize because they were 16 years old. I still use the other two sets o

Very durable long lasting products from EZY DOG. I love all of their products.

Very nice for our pug, keeps him close

We have 4 great danes 2 of which are now 4 months old. These leashes are the perfect length and because of the elasticity keep your arm from being yanked. Training these puppies is so much easier with this leash. At 4 months old they are already over 70lbs each so this leash keeps you and the dog from being injured. We bought our first cujo leash several years ago for our adult danes. Wish we had this leash when they were puppies and we were training them

I personally don't like the leash because it doesn't feel right, but my girlfriend loves it. It works great for control, but if you have a longer leash you can always wrap it up to accomplish the same thing as this, which is why we have our differing opinion. Quality of the leash is great otherwise.