The Original Shock Absorbing Dog Leash
Comfortable, secure, short shock absorbing dog leash design lets your dog run, tug, and pull away to their heart's delight while keeping you on your feet.
Product Information
Cujo dog leashes are built with:

6 inches of shock absorbing stretch
The tight, short stretch gives more control over dogs that pull hard

Pick from the 25 or 40" length.
Shock absorbing design allows movement without hurting you or your dog
Comfortable handle gives you optimal control
Available extensions and multi dog couplers.
Add 2 Extensions for Tangle-Free Double Dog Walking!
Colors: Blue, Red, Black, Green Camo, Pink Camo
Features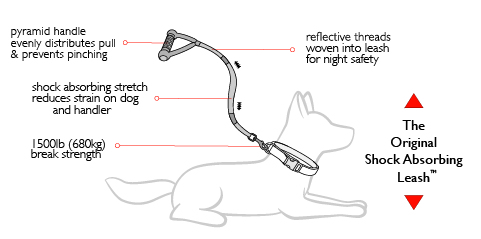 Now Go and Play!
The First Shock Absorbing Dog Leashes
What sets the EzyDog Cujo dog leash apart from traditional dog leashes is it's shock absorbing durability and control. The firm wakeboarding no-slip handle and short length are engineered to give you great control over your dog while still making it comfortable for both your pet and you. So go ahead and go hike that trail with this dog leash for active dogs! Go for a run or a romp through the park. With a Cujo shock absorbing leash, you know your dog will stay safe and sound.
Find the Perfect Fit
Every dog is different and here at EzyDog it's our mission to find the perfect fit for every dog. The options we offer in length, size, and style are what make our EzyDog dog leashes customizable so you can find exactly what you are looking for at EzyDog.
Add Standard Extensions for additional length, or add a dog leash coupler for dual tangle-free dog walking! Don't forget to add a dog collar or a performance dog harness for your brand-new leash.
63 Reviews
Two of my dogs are real pullers on walks, and this leash has definitely saved my arms and shoulders. It truly absorbs the shock, especially when the dogs make a sudden movement. The dogs pay more attention to me when walking also. I am so glad we got this, and we will probably be getting another one soon!

I have two large very strong Boxers and this leash makes it so easy to walk both of them. Both are very good walkers but when they do pull occasionally the elasticity helps tremendously. And the handle is very comfortable to hold.

Best leash I've ever had.

This takes the yank out of the leash when my boxer mix tries to launch off after a squirrel or cat. We use it with the Summit backpack loaded with a couple of canned goods. We can walk Mojo without taking a muscle relaxer upon returning home! He is getting much more exercise around the neighborhood!

Very comfortable and sturdy for a powerful puller

We were given a leash similar to the Cujo but it wore out over time (about a year). I think it was the Sparky meant for small dogs (and ours is a powerful Lab) so the rope lost its elasticity and became quite rough. Also, the handle was lighter weight and the grip narrower, which I actually prefer, because when we got the Cujo, the handle grip seemed thicker, and it was heavier -- and I was concerned because it seemed like a heavy weight to carry around with me on our walks. But after a few walks, I don't notice the weight unless I pay attention to it. Our Lab is a very strong puller and, in the past, using a soft handle meant my hand would get crushed as he pulled. With the Cugo ski-type handle, I get a firm grip and my hand remains unharmed! The bungee rope is also great, cushions the pull. We bought three leashes in blue, black, and pink. I LOVE the pink, perhaps not appropriate for a boy dog, but the colour is wonderful. We bought two long leashes and one short leash. I will use the short leash for training so that I have more contact, but I use the long leash for walks so that my dog can sniff easily. I have subsequently bought a "redirectional harness" with the leash attachment on the chest (not made by Ezydog) that miraculously stops him pulling, but on the occasions that he does pull when excited, the Cujo leash is fantastic. I especially like it for when my dog pulls unexpectedly: I might be looking in a different direction and he spots another dog he wants to play with and suddenly yanks the leash. If it weren't for the Cujo handle and bungee rope, I think I'd be suffering a lot of hand and shoulder damage! I also like that the rope doesn't bend easily. In the past, a webbing/fabric leash would get twisted around his legs; this one just bounces around and doesn't twist easily. I do agree with another reviewer that says it would be great to be able to slip the handle over your wrist -- sometimes I need both hands like when I'm opening the gate at the dog park that requires both hands but the leash won't stretch long enough to hold it while reaching for the gate lock, and then I have to grip the handle between my legs and hope my dog doesn't pull away at that moment. But all in all, I'm a Cujo convert, don't think I'll be using anything else, unless my dog becomes so obedient that he walks quietly at my side all the time!!

excellent leash for hiking

The Cujo leash is very high quality and perfect for hiking or just walking a strong larger dog. Our 8 month old black lab is easily controllable with this leash and the accompanying harness.

Our dog loves to go after squirrels . Before the Cujo my shoulders would ache from all the pulling but now I barely feel him pulling..

Great leash, but problematic handle

I really like the flexibility the leash has for when the dog lunges at squirrels or other critters; it definitely helps absorb the shock. I would have given it 5 stars just for that, but I find the handle really uncomfortable. I have small hands, so on long walks it actually gets tiring holding onto the large grip, yet the handle is not large enough to comfortably slip over your wrist (probably impossible for anyone with average or large hands and wrists). Also, the material makes my hands sweat. If I could have the shock absorbing leash with a traditional handle, it would be a perfect product. EzyDog Says: Thanks for the feedback Sarah. You may find the Mutley Leash or Zero Shock more to your liking. Both offer a round more traditional style of handle.

The very best - soft handle for seniors comfortable

I have been using this leash for five years with my Golden Retriever, a strong , athletic dog, the leash allows me to control my dog with no discomfort and no discomfort for my dog. It has been the best leash that I have ever had, I have owned dogs for18 years. I recommend this leash to all large strong dog owners.

Great for training my rescue dog

I love rescuing dogs. But they do come with challenges. My obedience trainer introduced me to your Cujo leash to help with her training of my newest special needs dog and it had been a wonderful help. And it's comfortable for me. Great product.