Dog Treat Belt for Rewards on the Go
The EzyDog SnakPak Go is the best dog treat belt for when you're out walking with
your dog and need access to a small amount of treats.
Product Information
Magnetic Closure
Attach around waist with elasticated webbing strap
Large storage pocket with water-resistant zip
Poop bag storage/dispenser
Accessory D-ring
Reflective trim
Features
Treat Training Accessory
The SnakPak Go dog training pouch has a pocket at the front for a small number of dog treats. Perfect for when you want to do a quick bit of dog training on your daily walks.
Extra Storage
In addition to the smaller treat pouch, there is also a larger pocket with a water-resistant zip for all your accessories. (phone, keys, money etc.)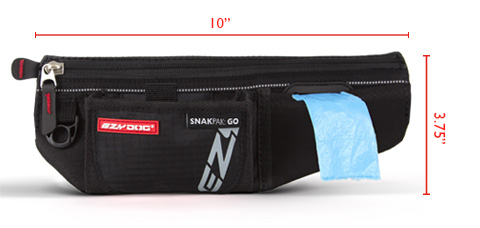 Poop Bag Storage Dispenser
The side pocket is large enough to fit a standard roll of pickup bags comfortably. We fit the front of this pocket with a silicon molding that allows one poop bag at a time to be fed through. There is also an additional flap on the front to tuck the unused bag into.
Custom Fit
The SnakPak Go attaches around the waist with the elasticated webbing for added comfort. The webbing is adjustable to fit any waist size.
1 Review
Super Helpful Training Equipment

I'm fat, but it fits! Terrific for small treats. Not good for large. Fits my iPhone 5 and a tissue. Wish a little more room for a chapstick and paper towel. Overall, its a great tool and I always have my poop bags, too! I completely recommend it if you have a puppy, especially.