A No-Spill Ultralight Portable Dog Bowl
EzyDog helps make life easy for you, so you can spend more time on the important stuff, like having fun with your best friend! A dog dish that no other competitor can beat on terms of quality, portability and ease-of-use.
Product Information
Easy to clean
Easy to transport
Contains a clip for travel convenience
Leak-Proof
Ideal for food and water
Folds completely flat
Color Options: Black
Size Options:
Small (25 oz), Folded: L 6 x W 4 x H 1" Open: L 6.75 x W 6.75 x H 3"
Large (42 oz), Folded: L 7.5 x W 4 x H 2" Open: L 8.5 x W 8.5 x H 3"
Features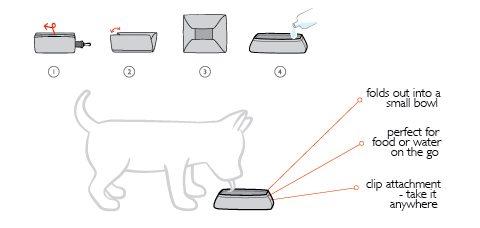 Dog Bowls For Dogs and Owners On-the-Go!
What a hassle cupping your hands so your dog can get a drink of water. The water quickly disappears and time is wasted on what should be a fun outdoor activity with your furry canine companion. When hiking on a trail it is important to stay hydrated and keep your energy up, these rules also include your dog! A regular dog dish can be cumbersome to lug on an outing because of its awkward size. EzyDog's collapsible dog bowl is the answer to what you've been looking for. Our dog bowl also acts as a leak proof water dish for providing your pup with clean water on-the-go. This portable dog bowl can easily be wiped out and cleaned for easy debris removal. The clip helps you transport this bowl almost anywhere, and if you don't want to carry it, you may want to purchase an accommodating EzyDog dog backpack along with pick-up bags for good measure.
6 Reviews
Bought Fold a Bowl as a gift and it was well received. It's fun and practical especially on long walks. Love the fact that you can clip it on the leash. Looks great and doesn't leak.

Great, Lightweight, Easy to Use Travel Bowl!

I am a dog walker by profession as well as I own three dogs. During the warmer months in North Carolina one must carry water so your dog will not overheat. A lot of the travel bowls I tried were not easy to use or easy to carry and some of them for SOME reason my own dogs simply would not drink out of. I purchased five of these, two to use while walking others dogs and three for my own. I absolutely love them. They are soooo light and easy to attach, easy to unfold and easy to refold. Plus they are easy to clean and I have not had a dog refuse to drink from it. I LOVE LOVE LOVE IT! Thank you again for another great product EZYDOG----oh, plus they look great!

Bought the EzyDog Fold A Bowl when I purchased my EzyDog Summit Back Pack. Now when I and my 6 month old Husky go for walks he carries his own water and bowl, a few "bags", and a treat or two. He loves that drink of water at the half way point of the walk and has no problems drink out of his bowl that he carried. I purchased the 40 ounce so it would be deep enough for him to get a really good drink of water from, he has no problems getting plenty of water for his walk back towards home.

This is a nice bowl because my dog is small it holds just the right amount of food for when we visit others...It doesn't leak and folds nicely into it's own bag, I only wish the bag was separate from the bowl, but this does the job I wanted it to...Give it a try you won't be sorry...Just remember the small bowl is for Small dogs!

I recently bought the small bowl after the one I had used for years (made by a different manufacturer) started seeping. It might hold 25 dry ounces, but it barely holds 16 ounces of water. Still, that's enough for a short romp. And I like it well enough that I'm also going to buy the bigger bowl. It has some very handy conveniences too. The clip makes it harder for me to forget to take it, and it folds nicely.

When we bought this bowl I was a little skeptical. It seemed like it was going to leak and not be very useful to me.  I had seen similar products in stores, but this one really seemed to jump out because it looked less flimsy that the others.  I figured what the heck. It is much more sturdy than its competitors and has been very usefull. The water does not leak, and I can keep it in my back pocket for long walks so that my dog can have a drink ready from my water bottle at anytime if there isn't a cool stream neer by.