Fast, Easy, Adjustable QuickFit Dog Harness
Our Quick Fit sport dog harness is designed to fit dogs of all sizes comfortably and with full control. This lightweight one-click harness is loved by dog owners and dogs alike. This dog flyball harness comes in a variety of fun colors like our new candy and camo pink.
Product Information
One-Click of the buckle and you're ready to go!
The neoprene chest strap sleeve gives extra comfort
Reflective stitching enhances nighttime visibility
The stainless steel ring is a secure anchor for leashes
Adjustable straps ensure a comfortable, secure fit
An ID clip to securely attach your dog's ID tags
Add a matching Custom ID Tag HERE
Color Options: Blue, Red, Chocolate, Black, Orange, Green Camouflage, Pink Camo, Candy, Bubble Gum, Purple
Size Options: XXS, XS, S, M, L, XL
Features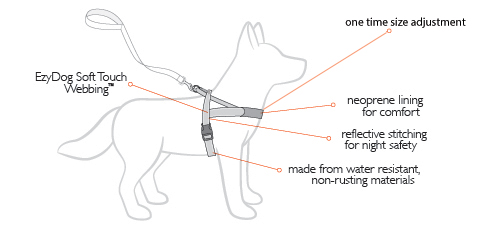 Now Go and Play!
The QuickFit Harness is the Quickest, Best Fitting Dog Harness Out There!
Adjust each strap just once, then buckle on the harness with one click, and you're good to go! It's so comfortable and simple that it can replace your dog collar too. We added an ID tag holder for that very purpose. The QuickFit dog harness is designed to minimize pinching or chafing, and is ideal for dogs of all sizes.
A Great, Affordable Sport Dog Harness
Whether you're looking for a sport dog harness that's quick and easy to fit, or more safety for an athletic pooch, or anything in between, the QuickFit Harness is an ideal solution. Some of the Quick Fit Harness biggest fans are Flyballers! The Quick Fit Harness from EzyDog is the preferred flyball harness for the extreme sport enthusiast. When your dogs are raring to go, don't waste time and energy trying to maneuver them into uncomfortable, complicated harnesses. Just click them into the QuickFit harness and start enjoying the great outdoors together! Don't forget to pair your harness up with an EzyDog dog leash!
For best fit measure the girth of the dog. This is the area behind the front legs and around the body. The neck will typically fall into place once girth is determined. If the measurement is close to the end of the size range, go up to the larger size.
| | | | |
| --- | --- | --- | --- |
| Size | Weight LBS | Neck Inches | Girth Inches |
| XXS | 4 - 7 | 9 - 15 | 12 - 15 |
| XS | 7 - 12 | 11 - 18 | 15 - 18 |
| SM | 12 - 23 | 14 - 22 | 18 - 21.5 |
| MD | 23 - 42 | 16 - 27 | 21.5 - 26.5 |
| LG | 42 - 77 | 18 - 31 | 26.5 - 33 |
| XL | 77+ | 21 - 36 | 33 - 42 |
Fitting Instructions
1. SLIP HARNESS OVER DOG'S HEAD AND ADJUST BELLY STRAP TO PROPER FIT. IF THE BELLY STRAP DOES NOT FIT MOVE TO THE NEXT SIZE.
2. ONCE THE BELLY STRAP FITS, TAKE THE HARNESS OFF YOUR DOG TO ADJUST THE ONE TIME CHEST ADJUSTMENT, IF NEEDED. SLIDE THE NEOPRENE SLEEVE TO ONE SIDE AND ADJUST THE SANDWICH VELCRO. THE RED SAFETY PATCH IN VELCRO MUST BE HIDDEN.
3. SLIP THE HARENSS OVER YOUR DOG'S HEAD AND CLICK BUCKLE INTO PLACE
4. IF THE BELLY STRAP FITS, BUT THE CHEST STRAP DOES NOT, CONSIDER THE CHEST PLATE HARNESS AS AN ALTERNATIVE.
IMPORTANT: STRAPS SHOULD FIT SNUG WITH THE ABILITY TO SQUEEZE 2 FINGERS UNDER WEBBING.
The best harness available for a great price! I've been using these for years without any worries. Highly recommended for all dogs but especially short nosed breeds.

Our Bulldog loves this harness and I love it because it is so easy to put on!

I'm not really comfortable with the way you size the front it just seems like if there's a chance of it coming apart. Also it said it would help with calling and it does not

EzyDog Says:
Hi Georgene - The front velco adjsutment on the Quick Fit Harness includes a red strip. As long as that red is fully covered, the harness will function as intended. If it is not covered, you need to move up to the next size. If you can detail us on how you're trying to use the harness, we may be able to further assist. Please feel free to reach out to us directly 877-3EZYDOG or info@ezydog.com

super easy to use and doesn't impare dogs playing

Great product, well built

I got the Quick Fit harness for my 7 yo rescue miniature Schnoodle (24#). She's a puller and pretty ill-disciplined on the leash. The harness was easy to fit to her and she seems to forge ahead less frequently and when she does, there is less coughing and gasping from a collar pulling on her throat. We're working on the pulling and this harness helps in that.

Quick fit harness really works

Our Cardigan Welsh Corgi required surgery to repair a herniated disc in his back about 8 months ago. Weve been looking for a harness that doesn't bother his back and helps to slow down our puller all be it gently. The quick hit harness has been great for him and he likes it. We as Los find it so easy and quick to put on.

Quick Fit Dog Harness for toy breeds

I purchased this because I wanted a harness that fit well plus I wanted a "grab tab" on the back. First of all the customer service was excellent. My dog was an odd size, she has a barrel chest and tiny neck but I tried the smallest size and it was very adjustable. The only reason I gave four stars vs five is I don't like how the buckle is so close to her elbow joint, I 'd like it to sit further back on her chest, but I think the next size up would be too big. I think this is a very nice harness design.

Truly the easiest , fastest, "easy" harness! Coco loves it!

It's a no-brainer! Ideal harness. So easy to put on and looks great. Very happy with this purchase and would get it again!