EzyDog Dog Collars Introduce the Neo Collar
Neo for Neoprene. Neoprene is a soft rubber material that is used in wetsuits, and its reinforced with nylon webbing for added strength and durability. It makes a great waterproof dog collar and is available in a variety of fun colors from pink camo to solid black.
Product Information
The highest quality materials are used on this waterproof dog collar for added durability
This dog collar is completely waterproof and easy to clean
Uses a stainless steel D-ring which is non-rusting
Hook and loop Velcro adjustments make sizing the collar extremely simple
A quick release buckle so the collar is easy to get on and off
Reflective piping for visibility in the dark
An ID clip to securely attach your dog's ID tags
Color Options: Blue, Red, Chocolate, Orange, Pink Camo, Green Camo, Black, Bubble Gum, Purple
Size Options: XS, S, M, L, XL
Add a matching Custom ID Tag HERE
Warning: PLEASE do not ever leave your dog tied up. Doing so with the Neo Collar will void the warranty. Thanks for caring about the safety of your dog!
Features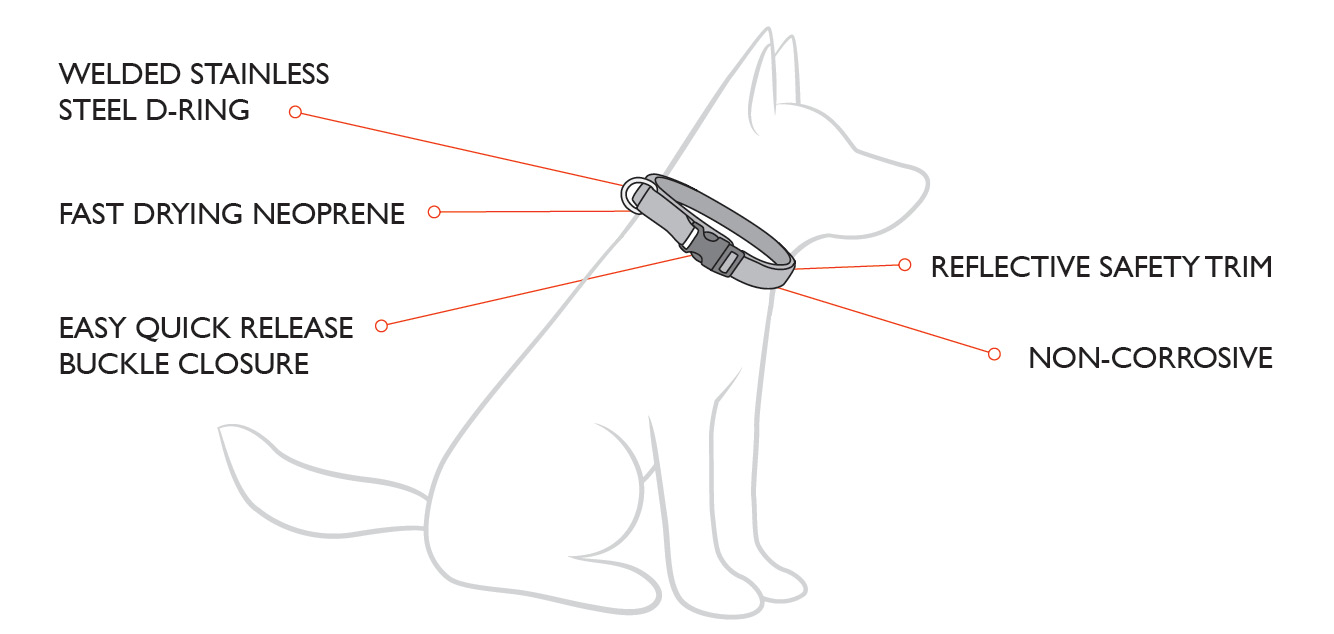 Now Go and Play!
The Neo Collar Dog Collar is Great For Any Sized Dog!
Neo Collars are thick and padded large dog collars that any sized dog can enjoy. Even if you have a rough and tumble Jack Russell Terrier, she has met her match with the durability of this collar! Wider dog collars are also much safer on walks with your best furry friends because they are less likely to cause as much of a choking sensation than some thin dog collars might, and this collar is so soft that it will be unlikely chafe your dog's neck from repeated use. These dog collars can also be used effectively for dog training, and EzyDog offers some great leashes and harnesses to pair up with this amazing collar! Don't forget to check-out a matching detachable key chain that is a miniature version of this popular waterproof dog collar!
For best fit, measure your dog's neck exactly how you would like the collar to fit and select a size from the chart below. If you are near the end of a size range, go up to the next size.
NeoCollar Sizing
 
Neck
Width
Size
Inches
Neoprene
Nylon
XS
12 - 13"
7/8
5/8
S
13.5 - 15"
1 1/8"
3/4
M
15.5 - 17.25"
1 1/4
1
L
18 - 20.25"
1 1/4
1
XL
21 - 24"
1 1/4
1
Absolutely love this collar. I bought three for my 3 dogs. Small, med and large. They look great, feel great and are affordable. I think even my dogs are proud to wear them. Highly recommend them.

The best collar I have ever bought I have a pittbull that has a very strong neck and head and stretches out all his collars until now. I bought one of these collars in Florida 2 years ago and it has never stretched out so I bought another for back up

Ezy dog Neo Collars Simply Outstanding!

What can you say about these collars that hasn't been said. We have been using these collars on our Labrador retrievers for the past 6 years. We recently purchase new ones the others are 6 years old and still in very useable condition. The new colors caught our eye and our Labs always get the best. Their old e Neo collars had been used by them for upland bird hunting, duck hunting in beaver ponds and dock diving competitions. We only occasionally washed them but they have little or no odor. The glo bands also help at night especially on our Black Lab. The neoprene is very friendly to your pups neck. Look no farther if you want the Best for your Pups!

Best collar you will find anywhere

I love the fact that it is reflective. My dog is black and hard to see at night. The quality is superb and it is comfortable for the dog yet extremely sturdy. After going through several I finally have THE collar that works for us. Will replace it as it wears, but it looks like that won't be very soon.

We have two labs one is 82lbs and one is 68lbs. We have been using these collars for a few years now. I am just now reordering new ones. They have lasted well over two years. Our Vet loves them, we love them and our dogs love them. The reflective piping is nice and the colors are great. We take the collars off at night (so the dogs know it's bed time) and we love the buckles and how easy they are to remove and put back on daily. The O rings have held up well. Really they only reason I'm even replacing them is to get new colors. I would defiantly recommend them. On a side note because of the neoprene the collars may smell a bit at first, throw them in the wash if the smell bothers you. they are well worth it. The Neo collars are a great and comfortable product.

Absolute best collar anywhere!

Always buy this collar for Rufus. High quality and long lasting. Fit is perfect based on the size chart. Reflective piping is a fantastic for your pup's safety. Love this collar. Could not be happier. Highly recommend. Worth every penny.

Love the looks of the collar but sadly it isnt very durable. I have two labs and I bought them each one that lasted maybe a month. They like to play and I found each collar ripped on the floor. Very sad because it's such a pretty collar but I don't think I would re buy it because it did not last in my house.

EzyDog says: Thank you for your review. We are sorry to hear this was your experience and that this item did not meet your expectations. We would like to personally assist you with this issue. While our products are very durable, nylon will not withstand chewing. Please contact us at info@ezydog.com or 877-3EZYDOG so that we can make this right.
Thank you,
Katie @ EzyDog

High quality, get the next size up if dog near high end of range

Very sturdy collar, I like the soft neoprene on the inside to cushion my dogs neck since she has short hair. The orange is very high viz. There isn't much extra room for adjustment on the collars, so if your dog is on the high end of the listed range, get the next size up.

My dog's and I love these collars

I'm very pleased with these collars. This is the second neo collar I've bought from ezydog. The first one lasted a few years and is still usable but stinks because my dog rolled in some nasty stuff and I can't get the smell out. When I got the package and opened it I couldn't get my dogs to sit still hardly so I could put them on they were so excited. These collars are great and my dog's love them. The colors and patterns are great to.