EzyDog Dog Collars Introduce the Neo Collar
Neo for Neoprene. Neoprene is a soft rubber material that is used in wetsuits, and its reinforced with nylon webbing for added strength and durability. It makes a great waterproof dog collar and is available in a variety of fun colors from pink camo to solid black.
Product Information
The highest quality materials are used on this waterproof dog collar for added durability
This dog collar is completely waterproof and easy to clean
Uses a stainless steel D-ring which is non-rusting
Hook and loop Velcro adjustments make sizing the collar extremely simple
A quick release buckle so the collar is easy to get on and off
Reflective piping for visibility in the dark
An ID clip to securely attach your dog's ID tags
Color Options: Blue, Red, Chocolate, Orange, Pink Camo, Green Camo, Black, Bubble Gum, Purple
Size Options: XS, S, M, L, XL
Add a matching Custom ID Tag HERE
Warning: PLEASE do not ever leave your dog tied up. Doing so with the Neo Collar will void the warranty. Thanks for caring about the safety of your dog!
Features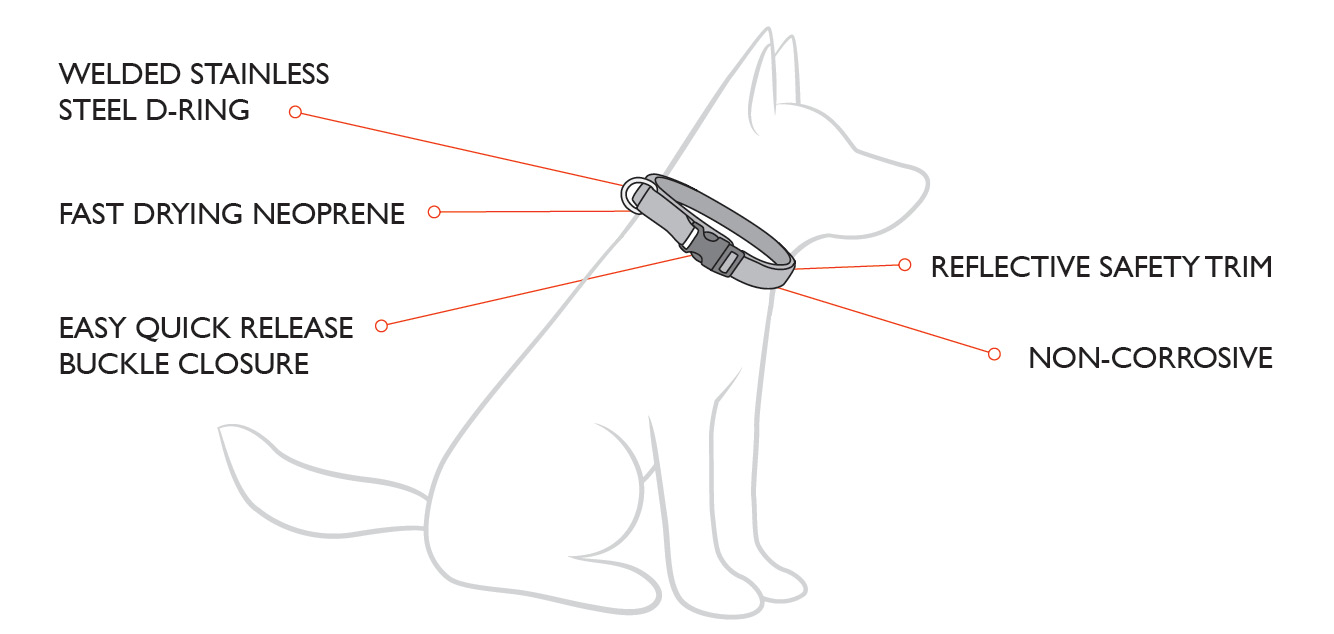 Now Go and Play!
The Neo Collar Dog Collar is Great For Any Sized Dog!
Neo Collars are thick and padded large dog collars that any sized dog can enjoy. Even if you have a rough and tumble Jack Russell Terrier, she has met her match with the durability of this collar! Wider dog collars are also much safer on walks with your best furry friends because they are less likely to cause as much of a choking sensation than some thin dog collars might, and this collar is so soft that it will be unlikely chafe your dog's neck from repeated use. These dog collars can also be used effectively for dog training, and EzyDog offers some great leashes and harnesses to pair up with this amazing collar! Don't forget to check-out a matching detachable key chain that is a miniature version of this popular waterproof dog collar!
For best fit, measure your dog's neck exactly how you would like the collar to fit and select a size from the chart below. If you are near the end of a size range, go up to the next size.
NeoCollar Sizing
 
Neck
Width
Size
Inches
Neoprene
Nylon
XS
12 - 13"
7/8
5/8
S
13.5 - 15"
1 1/8"
3/4
M
15.5 - 17.25"
1 1/4
1
L
18 - 20.25"
1 1/4
1
XL
21 - 24"
1 1/4
1
I've used these collars for over 8 years. I love them because they have a soft padding around the neck.

Went through few collars but EZYDOG Neo Collar is really the best. Stop your searching. Buy it. You will not regret it.

Not so much a review of the product(which is great!) but a review of the company

It's easy to garner rave reviews when everything goes well, but the real test of a company comes when things go wrong. I purchased a wide collar last year and my boy has managed to destroy it twice. I reached out to the company and submitted a photo showing the damage, and in both cases I had a new collar in my mailbox within a couple of days! Not only have I ordered additional product from them, I have referred several people to Ezy Dog as well... Taking care of your customer's pays great dividends... keep up the good work!

EzyDog collars are the best! I purchased first EzyDog collar 4,5 years ago for my dog and now have only this collars for all my dogs and puppies.

The best collars all of our dogs now and before since we found ezydog have had ezydog collars they last a dogs lifetime :)

Great collars! Thats all I buy for my dogs!

I bought this collar in a size large for my boxer in purple and I've had it on him for a little over a week now and I love it! His neck size is 17 inches and with the collar perfectly adjusted there is only about an inch and a half of the black velcro showing which doesn't bother me. I love the neoprene lining because my boy's neck is sensitive and it doesn't rub a spot on his neck like other collars used to. I haven't been keeping a collar on him everyday because of this reason, but he recently got an activity tracker that he has to wear all the time so a comfy collar was a must. I also love the separate id ring. I bought a matching ezydog id tag and I wish I there was a way to add a picture because the purple looks beautiful against his black fur! This collar is very well made and will last a long time

Perfect

I buy only the best for my dogs. Just about everything my pups have is Ezydog. I honestly have no reason to buy anything else.