Fits Like A Glove
Go completely hands free with the EzyDog Handy Leash. Worn like a glove and adjusts to all hand sizes
Product Information
HANDY LEASH 15
Length: 15"
Large carabiner connection point.
Worn around the hand and fits any hand size
Reflective trim for night walks
Made from EzyDog Soft Touch™ Webbing and a neoprene lined handle
D-Ring for accessory attachment
HANDY LEASH 48
Adjustable in length (36" - 48")
Shock absorbing section
Worn around the hand and fits any hand size
Reflective trim for night walks
Made from EzyDog Soft Touch™ Webbing and a neoprene lined handle
D-Ring for accessory attachment
Features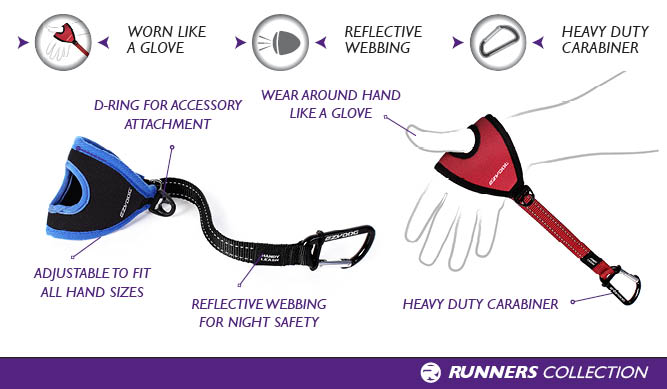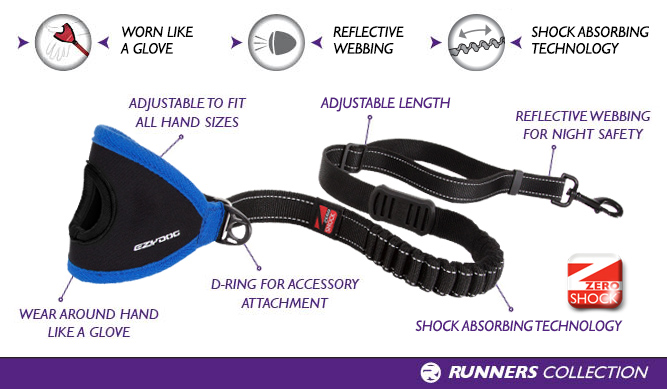 Hands-Free Dog Lead
The EzyDog Handy Leash fits around the hand for hands-free walking. Fully adjustable, the glove section opens out to fit any size hand.
Dog Fitness Accessory
Part of our Runner's Collection, the Handy Lead has been designed to help us all live an active life with our furry friends. Perfect when running or jogging with your dog.
We think that our dogs are the best workout buddies ever so we want to design products that make it as easy as possible to stay active with our pooches.
The hand section is made from soft neoprene (as used in wetsuits) and like any good running accessory is reflective for night time safety. The heavy duty carabiner is large enough to fit any existing leash and is load tested to 500kg for extra peace of mind. We finish the lead with an accessory D-ring - as we know you don't want your pockets full when out on a run!
10 Reviews
great when there are many things to carry

My dog goes to work with me. It find this handy leash to be the solution to carrying items in both hands while keeping the dog close to me. It works great for walks and jogs around the park too. Now I can carry my coffee cup in the same hand as the dog lead!! Problem solved.