Fits Like A Glove
Go completely hands free with the EzyDog Handy Leash. Worn like a glove and adjusts to all hand sizes
Product Information
HANDY LEASH 15
Length: 15"
Large carabiner connection point.
Worn around the hand and fits any hand size
Reflective trim for night walks
Made from EzyDog Soft Touch™ Webbing and a neoprene lined handle
D-Ring for accessory attachment
HANDY LEASH 48
Adjustable in length (36" - 48")
Shock absorbing section
Worn around the hand and fits any hand size
Reflective trim for night walks
Made from EzyDog Soft Touch™ Webbing and a neoprene lined handle
D-Ring for accessory attachment
Features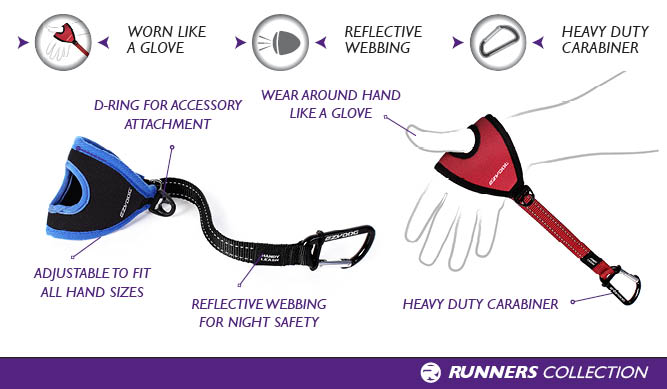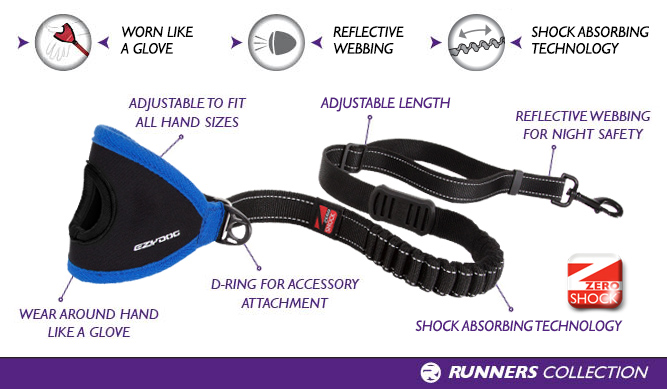 Hands-Free Dog Lead
The EzyDog Handy Leash fits around the hand for hands-free walking. Fully adjustable, the glove section opens out to fit any size hand.
Dog Fitness Accessory
Part of our Runner's Collection, the Handy Lead has been designed to help us all live an active life with our furry friends. Perfect when running or jogging with your dog.
We think that our dogs are the best workout buddies ever so we want to design products that make it as easy as possible to stay active with our pooches.
The hand section is made from soft neoprene (as used in wetsuits) and like any good running accessory is reflective for night time safety. The heavy duty carabiner is large enough to fit any existing leash and is load tested to 500kg for extra peace of mind. We finish the lead with an accessory D-ring - as we know you don't want your pockets full when out on a run!
14 Reviews
I first needed something with a bungie for when my dog gets distracted and pulls in a direction. I got the version with the hand strap and really like it. I've adjusted the length so that i can put my hand to my side and it wont get under my dogs legs. Also, i can choke up for i need extra grip and the bungee works better than i thought for my use. I can now use one hand and keep the other free. A great product. I get really excited about practical purchass and it hit the mark for me.

My grandson wanted to try this leash. Evan recently got a rescue dog-Sheena. She is a1 year old pit/mix. Evan has spina-bifida & can only get around in a wheelchair. He loves this product for ease in walking Sheena!

Great product!!!

I LOVE this leash! It fits and stays on my hand even when I am wearing gloves. The leash has a stretchy part that keeps my dog, Banche (the world's greatest rescued dog) from pulling on me as happens with a regular leash. This leash makes my walks so much easier. I can use both hands when I wear the EZDog hands free leash.

I bought this for my son, who uses a manual wheelchair, on recommendation. The hand grip/glove is rather small for an adult man, and the stretchy fabric will probably wear out pretty fast due to friction with the wheel. Otherwise, looks good-- haven't tried it in action yet.

Training my pit bull, Matilda to stop leash pulling and this leash is AWESOME. I am five feet tall, small hands. The hand strap fits just fine and I can even slip it around my wrist when needed. Traditional leashes put too much pressure on my wrist and causes pain. If your hand are even smaller, you can always wrap a sock around the hand strap but I haven't need to. I haven't adjusted to full length yet because the short leash gives me more control, keeps Matilda closer to my side. The elastic in the leash allows for some give, putting less pressure on my wrist. I can't see myself going back to a traditional leash on walks and runs.

I do not have pets. I bought 2 of the same leash for my 94 yr old Dad who walks a 15lb jack russell terrier who is strong enough to bruise is hand that is holding the leash. I wanted him to have some padding/protection. He likes it. Since his dr. says he is going to live to 110, I bought two. :--)

I really do like this leash. It is comfortable on my hand and it can be adjusted for hand size easily. I would prefer more colors (more girly ones).

Handy Leash - shorter one

Interesting idea, but the short leash really needs a swivel at the end, otherwise it really doesn't work without the extender. And since we bought it specifically for the short length, it just hasn't worked out for us. The only other comment we have is that the hand part of the leash is great for small hands like mine, but my husband found it very uncomfortable, especially with his winter gloves on. Maybe it needs to come in multiple sizes? EzyDog says: Hi Stacey - We're sorry to hear that you were not satisfied with the 15" leash. Based on your feedback, we may have other options that are better-suited for you and your husband. Please feel free to contact us, 877-3EZYDOG or info@ezydog.com

I walk 2 dogs 65 lbs each, this fits my needs vs handling their tractable leashes, easy on my hands and I feel it's very secure . I like that it tightens and a slight release on my hands but it doesn't fall off.