A Dog Back Seat Cover for your Car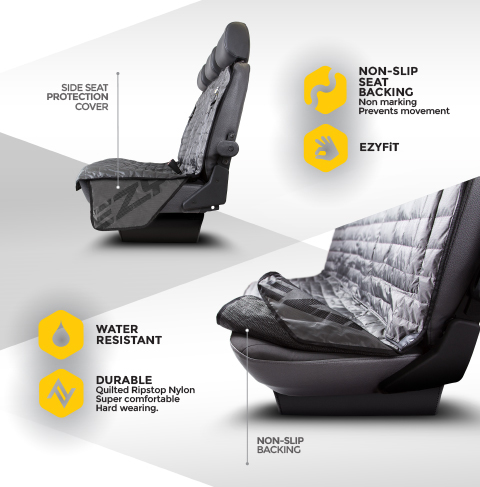 A Dog Seat Cover Designed for every Road Trip
Designed from quilted Ripstop Nylon, the DRIVE™ Cover is both hard wearing and super comfortable.
Made from water resistant materials, these pet proof seat covers offer protection for most any vehicle.
The non-slip base adds stability to the cover, keeping your pet relaxed and your car seat fully protected for the DRIVE™


The Pet Seat Protector that is Designed for your Back Seat
With a 51" width the Drive Seat Cover fits most vehicle back seats. Side seat protector flaps add an additional 8" of coverage on each side of the cover.
Best of all, the holes in the cover for the seat belts means that you can use the car seat as usual or even attach your dog to our crash-tested Drive Harness
Features
Non-slip seat backing
Ezy to fit (Adjustable Head Rest Straps & Push Tabs for where Seats Join)
Water resistant fabric
Durable quilted ripstop nylon
Super comfortable
Hard wearing
Fitting Instructions: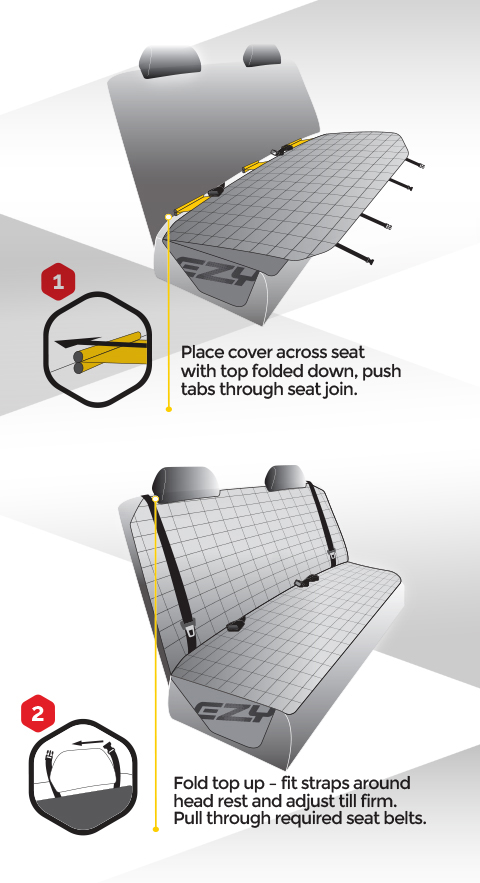 Care Instructions
Hand wash in warm soapy water - rinse well
Do not use bleach
Do not tumble dry
Do not iron
Do not dry clean
Dry in well ventilated area
Use caution when applying to light covered upholstery as some colour transfer may occur in the presence of excessive heat or moisture.
Cover may impede in the deployment of seat or side mounted airbags. Check safety requirements with your vehicle manufacturer before fitting.
2 Reviews
I just installed this seat cover and we'll be testing it today. I love the fact that the storage bag it comes in is actually part of the seat cover. The snaps to hold the seat belt in place are great. The one issue I can see so far is the front isn't long enough to hang off the seat very far which could lead to the cover sliding back in the seat leaving it unprotected. It could have been a bit longer or had another flap like the ones on the sides to drop in front of the back seat. I'll modify my review after my trip to the vet today when I've had a chance to test. I really hope it doesn't slide because it is otherwise a great fit and great product. No worries for me though as Ezydog has amazing customer service and I've bought many products from them previously and will continue to do so.

Fits great, holes for seatbelts are convenient. The only thing that kept it from being 5 stars is that there are no straps to hold front down.