A Dog Back Seat Cover for your Car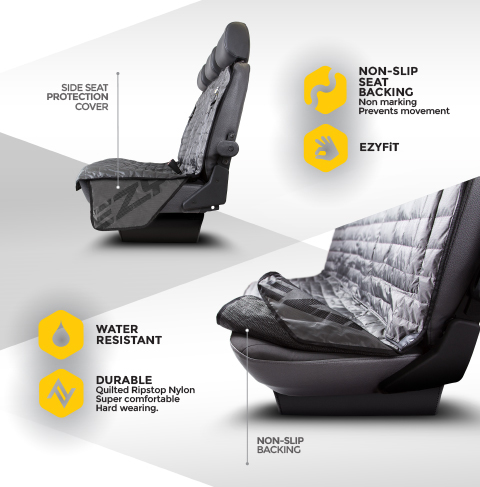 A Dog Seat Cover Designed for every Road Trip
Designed from quilted Ripstop Nylon, the DRIVE™ Cover is both hard wearing and super comfortable.
Made from water resistant materials, these pet proof seat covers offer protection for most any vehicle.
The non-slip base adds stability to the cover, keeping your pet relaxed and your car seat fully protected for the DRIVE™


Protect your Backseats from your Pet
Wherever you are travelling with your dog, make sure the backseat of your vehicle does not suffer.
The EzyDog Drive cover is a seat protector for every dog, large or small.
Perfect for protection on leather backseats or a standard car seat.


The Pet Seat Protector that is Designed for your Back Seat
With a 51" width the Drive Seat Cover fits most vehicle back seats. Side seat protector flaps add an additional 8" of coverage on each side of the cover.
Best of all, the holes in the cover for the seat belts means that you can use the car seat as usual or even attach your dog to our crash-tested Drive Harness
Features:
Non-slip seat backing
Ezy to fit (Adjustable Head Rest Straps & Push Tabs for where Seats Join)
Water resistant fabric
Durable quilted ripstop nylon
Super comfortable
Hard wearing
Fitting Instructions: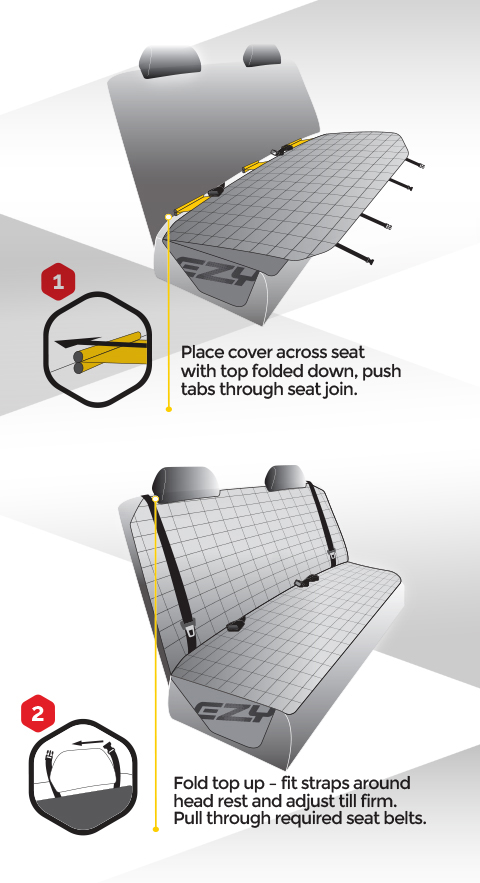 Care Instructions:
Hand wash in warm soapy water - rinse well
Do not use bleach
Do not tumble dry
Do not iron
Do not dry clean
Dry in well ventilated area
Use caution when applying to light covered upholstery as some colour transfer may occur in the presence of excessive heat or moisture.
Cover may impede in the deployment of seat or side mounted airbags. Check safety requirements with your vehicle manufacturer before fitting.
.