Convert Saddle Bags transform the Convert Harness to a dog backpack
Attach the Convert Saddle Bags to our Convert Harness (sold separately) to construct a versatile dog backpack system. All the practicality and trail readiness of the Convert Harness plus cargo capacity.
Product Information
Two fully removable Saddle Bags
Quick and easy attachment to your Convert Harness (sold separately)
Each bag is designed with two securable compartments
Ripstop material with waterproof zippers
Reflective piping for visibility in low light
Two awesome dog packs
Size Options: Small (fits S - M Convert Harnesses) and Large (fits L - XXL Convert Harnesses)
Features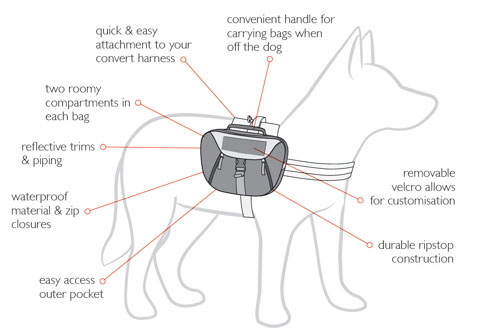 Convenient EzyDog Convert Saddle Bags
The EzyDog Convert Saddle Bag set has been designed to compliment your EzyDog Convert Harness, to 'convert' your everyday harness into a functional dog backpack. With an heavy duty construction that is water resistant and durable, your dog can go anywhere and hold everything.
This product features two packs each with a quick and easy attachment system, two roomy compartments with waterproof zip closures, reflective trim and piping - great for twilight adventures. A convenient handle for carrying bags when removed from the convert harness, removable velcro customizable badges, and each with an easy access outer pocket for storing items you need quick.
EzyDog's Convert Harness + Saddle Bags = Versatile Dog Backpack
Our dog harness plus saddle bags are more versatile than traditional dog backpacks and service dog vests. Service dogs fill many roles and positions from caretakers to guardians to emotional supporters. These dogs are literally taken everywhere! Why take multiple trips out to the car to pick up items such as dog bags, water, dog treats, or dog food for your best friend when he can carry it himself?
That doesn't mean you have to load him down like a mule, but it can mean a lot less hassle and stress throughout the day for both of you. The dog can also carry important items like medications for you so you don't have to carry around a tremendously heavy bag or purse. Let your big or small dog lighten the load with a dog backpack. Dogs love to work and carry things like a small backpack makes them feel like they are important and have a job or mission they are carrying out, and they'll love the extra attention and treats they receive.
SMALL SADDLE BAGS - Fits S & M Convert Harness
LARGE SADDLE BAGS - Fits L, XL & 2XL Convert Harness
Fitting Instructions
1. REMOVE VELCRO SIDE PANELS
2. PULL STRAPS THROUGH LOOP
3. TILT BAG DOWN TO IT'S FINAL POSITION - SEALING THE VELCRO
4. ATTACH VELCRO SIDE LABELS TO OUTSIDE OF SADDLE BAGS
14 Reviews
One of my concerns were that that would flap around while he was running. But the velcro is strong I haven't had a lot of weight in them yet. Also it seems when they are empty the pockets on the side tend to loose small items . Perhaps this is operation error. For now I put in zippered area. I haven't had them long still training my dog and I .

the fit is great. just the right amount of space in the bags for one or two days of back packing. (food, bowl and blanket)

So happy to have something my dog can carry all of her things on her own.

Very nice bags. Well built and sturdy, would hold up for trail use. Small holds surprising amount of items. Already have the harness for the bags. Small dog. Can not recommend these bags for any dog smaller than the weight recommended, or even slightly larger (<21#'s). Have a 12# (pom mix w/???) she looked ridiculous with the packs on her harness. Packs are sturdy enough that for her weight I really could not put much in them before they were too heavy. Returned them only because I have too small of a dog to use them. What I really need is "bags" about the size of the outer "envelope"/"easy access outer pocket" part of the bag, so she can carry her collapsible bowl for water, some poop bags, and maybe some treats/snacks; also could be about 1" shorter. Based on her personality I've been told she needs a "job", carrying her basic hike items would be a good start. Harness gives me a way to hold her without picking her up or holding on to her collar at her nap, as well as providing a way to assist her over higher obstetrical and into truck without fully picking her up.

Great for dogs that need a little help

My dog is suffering from a degenerative nerve disease that is starting to make going up and down stairs on his own impossible. This harness is helping me aid him with negotiating the stairs, and getting him in and our of the car. The harness is sturdy, and well made.Very easy to get off and on. I strongly recommend this harness

great convert harness addition

I have a service dog and these saddle bags are a great addition to the convert harness. These bags allow my pup to carry emergency asthma and epi pens for me. These bags fin on the harness with a large strap and Velcro making it very sturdy. Doesn't move around, and stays in place. Bags are very well made out of strong materials and I expect it to last a long time.

These bags work great for hiking trails and hills with my dog. He can now carry my keys, phone, water, and other stuff. The bags need to have close to the same weight in them or the harness will lean and twist to one side or the other making it difficult for my dog to walk. I simply move items from one bag to another until almost even. When ballast is nearly equal he can even run with the bags on. I found myself wishing I had bought the backpack and saved money. These bags and the harness together is over 100 and the backpack alone is less than 70. I thought the removability of the bags was over priced. Bags are good quality as are all of their products.

EzyDog says: Thank you for your comments. The weight in the bags should be fairly evenly distributed for the comfort of your dog. If you encounter movement of the bags, we recommend snugging up the harness.

Size Large Saddle Bags for Large Harness on 60lb mix breed

I work with a service dog on a daily basis and he is wearing his harness under my desk as I type. I purchased the harness because I wanted these saddlebags to hopefully solve the ongoing travel dilemma of too much stuff. The saddlebags are *almost* perfect for my needs and the only way I can think to make them better would be to make the bags secure to the harness with a clip and then secure them using the hook&loop (velcro). it just takes too much time to thread the hook/loop strap through the little plastic rectangle and then secure it to be the perfect solution to traveling and going through security. That doesn't mean these aren't a wonderful product, because they are. One of the reviews I read stated that the large bags were too large for the large harness and thankfully I didn't find that to be the case for us. My SD can still move well with the bags packed although he does occasionally whack into a corner or two until he realizes he has extra girth. The bags themselves are well designed and there are two sections for which to store your (or their) stuff. The front has pockets which I used for documents and my kindle (in case) and the large pocket held ziplock of food, collapsible bowl, and water bottle (empty). The customer service at EZYDOG was wonderful.

The Convert Saddle Bags Are Great!!

I love these saddle bags. The zippered compartments are roomy and attach nicely to the Convert Harness by velcro and strap. The reflective piping is an excellent addition to making my dogs visible at night. Very well made. Thank you EZDog!