Dog Backpacks by EzyDog™
The Summit Backpack combines advanced manufacturing techniques and the highest performance materials available. The Summit Backpack has been designed and extensively tested to give your dog the most ergonomic and comfortable fit possible. It is built for comfort, function and fun while incorporating the Award-Winning Chest Plate Harness design to insure control. Great for off trail and a "must have" for helpful service dogs.
Incorporated dog backpack harness for maximum comfort and control

Wide flip top opening paniers

Breathable material for increased air flow

Built-in paddled handle for quick control or to provide assistance when going over obstacles

Rust-proof stainless-steel D-ring for leash attachment in back and front of pack

Add a Small Custom Side Badge! 1 set will attach with Velcro to each side of the pack.

Ripstop material with waterproof zippers

Reflective trim for extra visibility and night time safety

Additional girth strap for larger dogs and extra security when making descents.

Color Options: Red/Gray
Size Options: S, M, L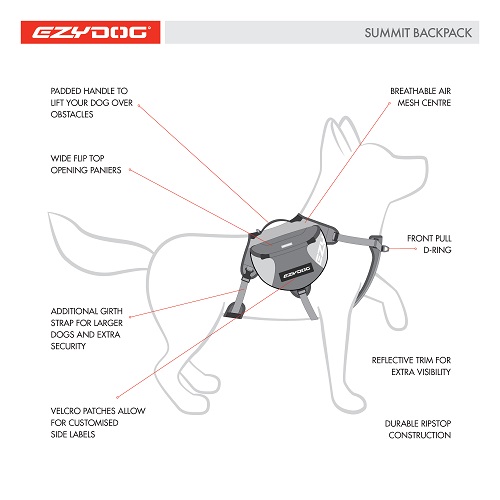 Now Go and Play!
Sizing
SUMMIT BACKPACK SIZING:
Size
Weight (lb)
Neck (in)
Girth (in)
Panier (in)
S
25 - 50
12 - 24
24 - 38
8x6 (4L)
M
45 - 75
16 - 28
28 - 44
10x8 (7L)
L
70+
20 - 32
32 - 50
12x9 (10L)
EzyDog Summit Dog Backpack - Best Dog Backpack on the Market
The Summit Dog Backpack incorporates our award-winning Chest Plate Harness which forms to your dog's chest for a secure and custom fit. The breathable mesh conforms to your pup's back and features a built-in padded carry handle for quick control. Attach a leash to the D-ring in the rear or front to walk your dog. The main compartments feature waterproof zippers, coated Ripstop material and reflective trim. Customize your pack with a Small Pre-printed Convert Harness Badge or a Small Custom Badge! The EzyDog Summit Dog Backpack is built for comfort, function and fun! Sizes S-L, so we have you covered whether you're looking for a large dog backpack or a small dog backpack. Don't forget to pair our amazing dog backpacks with an awesome pick-up bag for urban areas and an EzyDog dog leash!
Our Dog Backpacks are Trail Rated Useful & Versatile
When you hit the trail with your dog, let him proudly tote his backpack It is important to stay hydrated and have extra food reserves or a small medical kit just in case you need it. Your dog will be more than happy to carry a some of the load off your shoulders as you both go along your journey. When stopping or resting, the vest can be quickly released from the leash or fully removed to give him a much needed rest. Built on our extra sturdy dog harness, your pup will have no problems navigating tough terrain. The built-in grab handle allows you to give him a leg up in tight spots. This dog backpack is also designed to keep your dog warm on chilly nights and breathable during the heat of the day!
For best fit, measure the girth of the dog. Girth will take priority when selecting a size. The girth being the area behind the front legs and around the body. Fitted correctly, the harness should be snug on the dog and not too tight.
SUMMIT BACKPACK SIZING:
Size
Weight (lb)
Neck (in)
Girth (in)
Panier (in)
S
25 - 50
12 - 24
24 - 38
8x6 (4L)
M
45 - 75
16 - 28
28 - 44
10x8 (7L)
L
70+
20 - 32
32 - 50
12x9 (10L)
Fitting Instructions
1. LOOSEN ALL STRAPS
2. SLIP NECK OVER DOG'S HEAD
3. POSITION BACKPACK HANDLE NEAR THE DOGS SPINE AND CHEST PLATE BETWEEN YOUR DOG'S LEGS
4. CLIP INTO PLACE WITH THE TWO SIDE CLIPS
5. REAR STRAP IS OPTIONAL, INCLUDE FOR LARGER DOGS
6. ADJUST TO FIT YOUR DOG
TIP: KEEP THE NECK STRAP A LITTLE LOOSE SO THAT THE GIRTH STRAP DOES NOT PULL INTO YOUR DOG'S LEGS
IMPORTANT: DO NOT OVER-TIGHTEN STRAPS! WHEN FITTED CORRECTLY, BACKPACK SHOULD BE SNUG, BUT TWO FINGERS SHOULD EASILY RUN BETWEEN STRAPS & DOG.
17 Reviews
I bought the back-pack for my high energy pup. 1 1/2 hr walks didn't even phase her, and she bounded after every squirrel in sight. I've starting using the backpack with small weight to start, and it definitely makes a difference. She seems to know she now has a 'purpose'. Can't wait for the red color for my other dog.

Best Thing I ever bought my pup

I have a 6 month old husky, so a lot of energy and always on the go. Was having a hard time getting him into the idea of a collar and lead. Once a put the EzyDog Summit Back Pack on him, well he turned into a working dog. By that I at all times he's a pup and ready to play, the moment the back pack goes on he changes. He sits and waits for the lead to be attached and waits for comands to start on his way for our walk. During the walk he stays right at the side of me and you can just tell he is proud and feels like he is doing what he was meant to do.
Best thing I have ever bought a pup of mine, EVER.

Made well, good intentions

I bought this backpack for my slim desi dog a couple weeks ago. It fit very well, the form fitting harness was a big plus. The bag never slid from side to side yet moved with her nicely when she walked/trotted/ran. The mesh on the top is very breathable and provides lots of padding for the dog. The pack itself can hold a lot, even for the small size. The people who designed it were very smart - the pack has many components including seperate areas where you can put your money/id/cards and a ID tag for your dog. Really smart! Now, my biggest complaint, which gives this only 3 stars. The two buckles, even though they have thick padding underneath, are unbelievably noisy!!! It seems like they are 'loose' and you can actually wiggle the buckle even when its together. My dog didnt care what so ever but it drove me INSANE. Could not go for a walk without the rattling of the buckles against the pack. Very annoying for me! I took it back after a few walks and got the Canine Equipment one, which is nice and quiet :)

Also- some reviews on here and other sites state that this pack's straps slip - simply put it on your dog, fit it appropriately, take it off, and stitch the straps together. Easy, simple solution!


EzyDog Says:
This issue has not been reported in the past and we are unable to replicate the noise you are hearing in the buckles.
Thank you for your review - we are glad you like some other features of the Summit Backpack!

Loving this pack for my pup

I bought this pack for my schnauzer, terrier mix...he is 20 lbs but long. I was a bit worried but when we received it I tried it on and it was perfect. We use it if we go for outings he carries his bowl and a few snacks in his pockets. stays centered, doesn't slide to one side. He just is learning he's a bit wider when he has it on! Great bag,for hiking or I recommend even for a person with a service dog.

My dog Gauge (English Springer Spaniel--9 month old pup) really enjoyed his pack for the first time this past week on the Appalachian Trail---three day hike. I have to rig up an extra leash to hold the pack on his backside b/c the medium was actually a little to big---he wears a medium in the regular camo harness---so make sure a measure but this pack will do b/c he can only get bigger...it had plenty of room for extra stuff but he carried a quart size bag of food, a quart size bag of treats and a water bottle---had more room for other stuff like his ezydog harness, collar, and leash...this thing is great---buy it---you won't be disappointed...I buy all my dog stuff from Ezydog---can't wait to get the new orange blaze collar too...

Looked at a lot of dog packs

Recently purchased an EsyDog pack for Heidi (Terrier mix ~ 20-22 lbs). We do quite a lot of walking and hiking and I needed something to to help her use up some energy. This pack is great! Well made and fits perfectly. Most packs I checked out didn't seem like they would fit a small dog well. I have very pleased with all the EzyDog products I have purchased. Tahnk you and keep up the good work.

I just got one of these packs a couple of weeks ago, Bocephus didn't like it at first but after a few hikes he loves it. He can carry all of his stuff and mine now, its great for strength training for dock dogs. As always we get lots of comments on how good our EZYDOG gear looks, and how well it performs Thanks again.


Simply the best dog backpack on the market

I have a large number of dogs and have tried a vast variety of packs. This is simply the best one on the market. It is comfortable for the dog, easy to put on and very robust. It will not slip off to one side - my main gripe with others. Ignore reviews that say is falls off. The owner just hasn't put it on their dog properly! It's excellent.