Soft Trainer
The Soft Trainer & Soft Trainer Lite are two of the newest soft handle dog leashes in a line of top performing dog training leashes from EzyDog. With the neoprene upper loop and additional traffic control handle managing your pup will be a breeze.
Product Information
Standard Soft Trainer leash for dogs 26 lbs. or over(1" wide)
LITE Soft Trainer leash perfect for dogs under 26 lbs. (.5" wide)
6 ft. training leash perfect for dogs of any size
Reflective webbing for low light visibility
Additional traffic control handle
Soft touch reflective webbing and a neoprene handle for comfort
Barrel lock accessory attachment (perfect for dog pick-up bags)
Colors: Blue, Red, Black, Orange, Purple, Pink, Green Camo, Pink Camo
Add a Tangle Free Double Dog Coupler or a LITE Coupler.
Features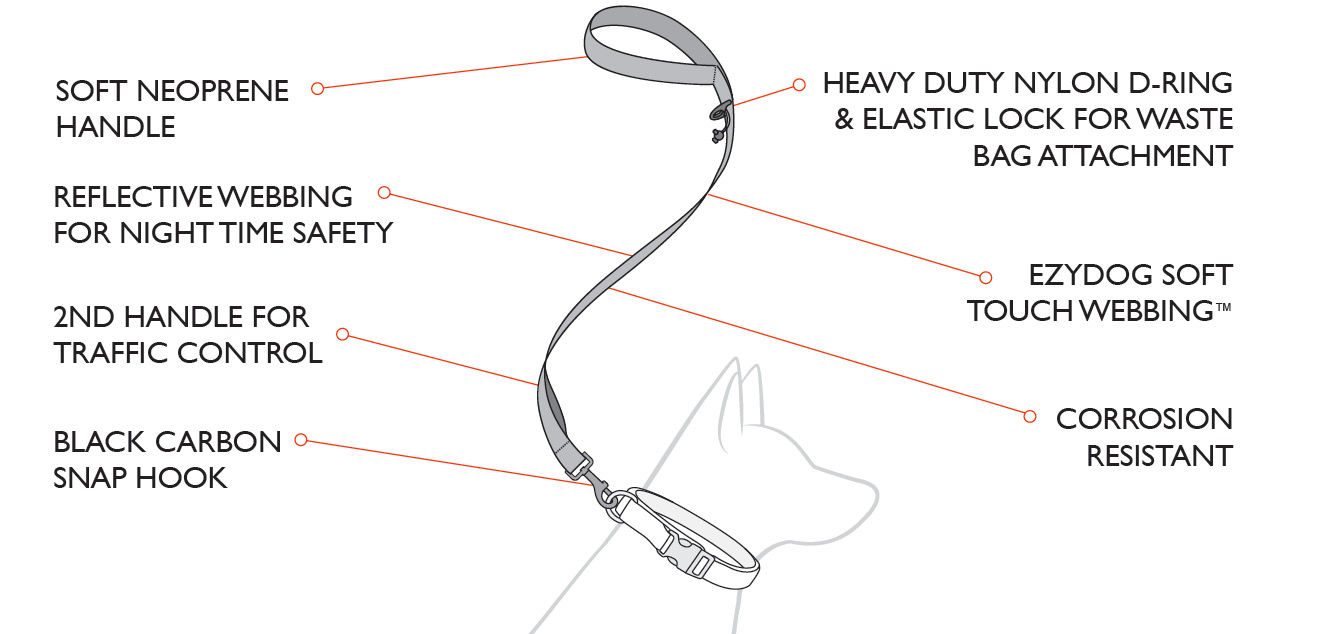 Soft Trainer™ Leash with Traffic Control Handle - Two Dog Leashes in One!
Offers an extra traffic handle positioned near the collar, giving you quick and secure control of your dog in built up areas. Don't forget to pick up a dog collar, an additional dog harness for added control during your dog training all built for top performance and control of your pet. Shopping for dog product outside of the US? Check out our line of EzyDog dog products (leashes & harnesses) for every pups needs.
23 Reviews
I bought two of these for my schnauzers for Christmas and I just love them. I love that they have a place for me to put my Poupee bag great invention

Seriously.

Great product, I love the padding of the handle. My only complaint is that the reflective stitching is only on one side. If the leash is angled just right there is no reflection at all. Other than that I am very happy.

Features as stated, great colors.

Traffic Control Works Perfectly

The length is perfect for a walk. Traffic control comes in handy when needed. Soft handle is great . As long as Otis does not bite this on in two we will be good, if he does we will be back for another.

Best leash on the market.

Cant get anything this good in any pet store I have been to. Its a great solid made leash and Ezy Dog really though of everything when making this leash. The handle is my favorite part. Great product that has the pet and pet owner in mind.

Have been buying Ezy Dog products for years for my JRT. Adopted a smaller, dainty JRT and this leash is perfect for her, light and sturdy! Easy to hold and stylish! Excellect!

Absolutely love this new leash from EzyDog. So comfy to hold & very functional during walks w/ our dog Bailey.

Many years of Dog owning -- many leashes tried. This is the best -- it's the second one I've purchased = because not only do I love the leash (so does our dog - he chewed the first one because he wants to carry his own leash). This leash is great for training our large pup - the traffic control handle is great for teaching him to walk close to us and not pull ahead.