Double the Strength, Double the Security Dog Collars
Cleverly crafted to be both durable and comfortable, the Double Up dog collar adds extra security for dog walking while "doubling" as a perfect solution for escape artists.
Product Information
Twice the strength and security of traditional dog collars
It is built with two stainless steel D-rings
These two double D-rings will take the pressure away from the easy access buckle
Made from the highest quality materials, it is non-rusting
Features our Soft Touch Nylon Webbing for comfort
Reflective stitching is incorporated for night time safety
An ID attachment is included for your dog's tags
Color Options: Red, Camo, Black, Blue, Orange, Purple, Pink, Gray, BubbleGum, Pink Camo
Add a matching Custom ID Tag HERE
Size Options
SM 8.5"-11.5" (.5" Wide)
MD 11.5"-16" (.75" Wide)
LG 15.5"-23" (1" Wide)
XL 18.5"-28" (1.5" Wide)
Features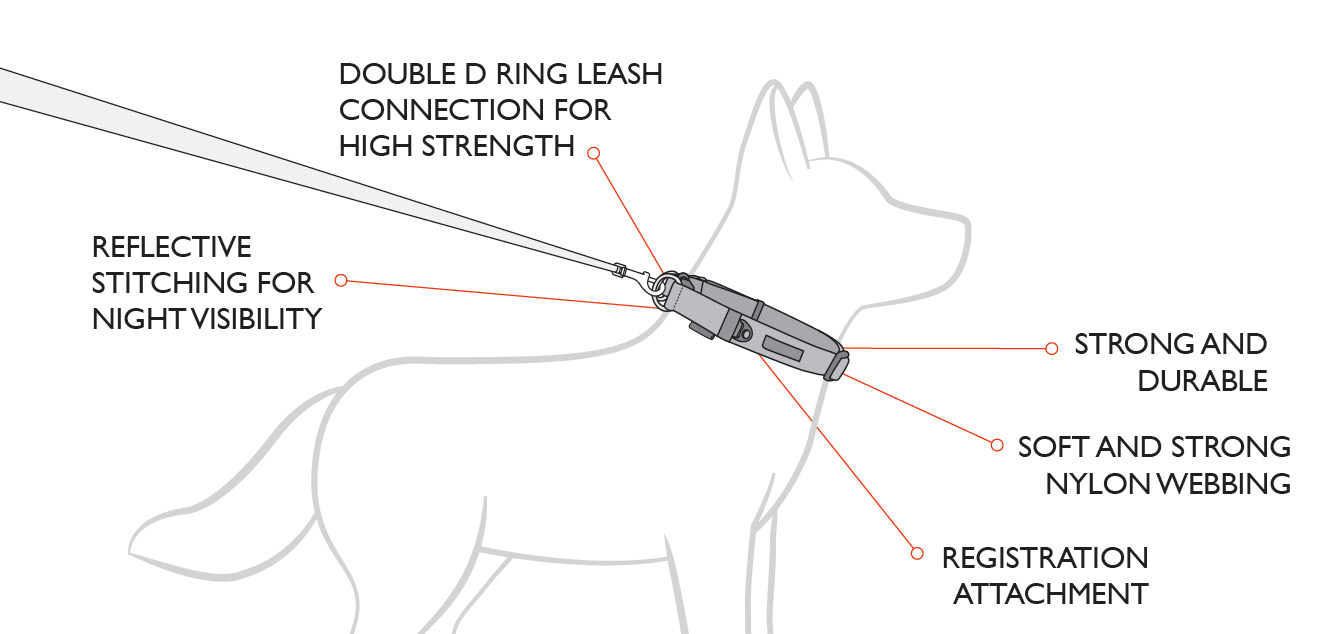 Introducing the Double Up Collar - A Dog Collar Offering Superior Strength and Flex
The EzyDog Double Up Collar offers superior strength and comfort, and can also be used effectively as a dog training collar in conjunction with a harness and/or a leash. EzyDog has effectively found a way to double up on strength while still offering an attractive and durable collar with this double d-ring collar. Whether you need some small dog collars or large dog collars, the double D-ring collar is still an excellent choice for you and your dog! Take your dog with you on vacation with this high quality collar which reduces the risk of him losing his collar or breaking it off.
Dogs are incredibly tough on their collars, and it takes good engineering to make a sturdy double up collar. Not only was durability in mind when EzyDog created this, but also your dog's comfort was in mind. Dog collars may be worn for hours at a time by your pooch, so it's important to have a collar comfortable enough that your dog won't even notice he's wearing it.
| | | |
| --- | --- | --- |
| SIZE | NECK Inches | WIDTH Inches |
| S | 8.5 - 11.5" (25 -33cm) | .5" |
| M | 11.5 - 16" (33-46cm) | .75" |
| L | 15.5 - 23" (43-66cm) | 1" |
| XL | 18.5 - 28" (56-83cm) | 1.5" |
26 Reviews
All the ezy dog leases and collars have been great and they have been wonderful with customer service.I have several leashes and collars. I will get another of the double up collars as most of the collars I have are the ones that tighten but the double up gives that extra security since I live in a congested part of a major city and he is easily scared by noises etc The purple is a great color on a black and white dog

Love this collar for my dog. It's easy to adjust to size and I NEVER have to worry about the connector snap coming loose. It's very strong and stout -- quality webbing. Another great EzyDog product.

This collar is exactly what we needed for our pup! We had previously purchased the smaller one but he grew :) Thiscollar gives us the extra security we need with the double rings! We love the collar, shipping was extremely fast and will definitely order from ending again in the future.

Great collar

Wrong size collar sent. Or sizes aren't accurate.

I have to send back then collar. It's either not the correct one or your sizes don't match description. At its longest point it didn't reach max size as described Now I have I have to pay to send back and pay shipping again when I reorder. EzyDog Says: Hi DeAnn - We're sorry to hear this was your experience. Please contact us so we can assist in this matter 877-3EZYDOG or info@ezydog.com

needed new collar for the male akita and this fit the bill. needed to be readjusted after wearing for several days but it works perfectly on him, but he is also a short coat akita. the collar for the female did not work as well. she is long coated and it could not be tightened up enough to keep from slipping over her head. we do like the collar as it does help in controlling him as he is super strong on walks.

Difficult to attach a leash

I really wanted to like this collar but the double D rings are hard to get a leash on an excited dog. You have to carefully line up both D rings and use both hands to attach the leash. The clip on my EzyDog leashes is barely big enough to fit around both D rings, even on the smaller sized collar. If you have one very calm dog then this would be a good collar for you. I have four not calm dogs and this collar is more of a hassle than it should be. Also the pink camo color is very stiff and not soft like the other colors.

Fits my pup well and the pink camo looks great!

The non scary Prong collar

I am not new to training dogs but for my new VERY hyper Russel/Pitt Salinger I wanted to try something a bit new in stead of the typic prong collar. this is just as effective and in my opinion for a hyper dog better because it does not cause pain. If u dont have a dog that pulls a lot a prong collar works well but if u have dong that is quick and powerful this seems much more human. Again my opinion.