Multiple Dog Leash Package
Finding the perfect double dog solution is not easy. Whenever you try to walk more than one dog at a time, the leashes end up getting tangled up and tied in knots and what seemed so simple at first turns out to be an unanswerable problem. But not anymore! With the EzyDog Double Dog Leash Solution, you can walk two dogs at a time and have it be hassle free and tangle free.
Product Information
The perfect double dog leash solution package
Choose between the:

Cujo 25 inch or 40 inch shock absorbing leash with 2 - 24 inch extensions

Prefect setup for managing multiple dogs
Soft and comfortable pyramid handle
Colors: Blue, Red, Black, Green Camo, Pink Camo
Features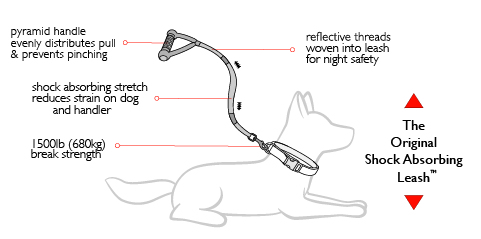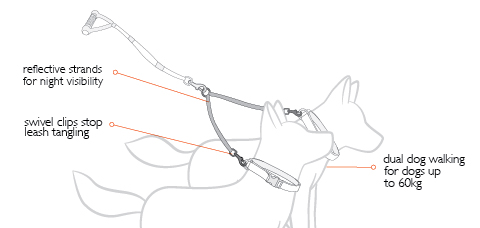 The Multi Dog Leash System
The best way to handle multiple pets is to get two Cujo Leash extensions. These 24 inch leash extensions are made with swiveling rings that keep the leashes tangle free. And the strong and durable material the leash is made with is up the challenge no matter how large your dogs are or how enthusiastically they pull at the lead. If you are walking smaller dogs, the Cujo 40 inch leash extensions are even better, because they allow more room and are made with a lightweight material.
Keep It Easygoing With a Two Dog Leash
Trade in the stress of trying to keep multiple dogs in line and go for an easygoing stroll instead with the EzyDog Double Dog Leash Solution. The leash extensions are light and comfortable for your dogs. And the great, firm handle on the Cujo leashes gives you excellent control even when walking two dogs at once! If you prefer a soft, flexible handle, you can also use a Mutley leash, which provides just as secure a connection between you and your pets, but a lighter handle for you to carry.
10 Reviews
I have 2 Cairn Terriers who love to pull when we are approaching the dog park. With the double dog leash I have full control and I prevent my hands from straining and also from hurting themselves.