Convert Saddle Bags transform the Convert Harness to a dog backpack
Attach the Convert Saddle Bags to our Convert Harness (sold separately) to construct a versatile dog backpack system. All the practicality and trail readiness of the Convert Harness plus cargo capacity.
Product Information
Two fully removable Saddle Bags
Quick and easy attachment to your Convert Harness (sold separately)
Each bag is designed with two securable compartments
Ripstop material with waterproof zippers
Reflective piping for visibility in low light
Two awesome dog packs
Size Options: Small (fits S - M Convert Harnesses) and Large (fits L - XXL Convert Harnesses)
Features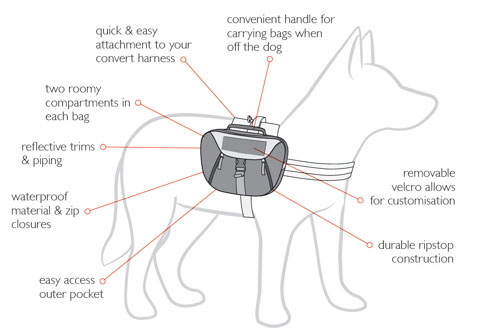 Convenient EzyDog Convert Saddle Bags
The EzyDog Convert Saddle Bag set has been designed to compliment your EzyDog Convert Harness, to 'convert' your everyday harness into a functional dog backpack. With an heavy duty construction that is water resistant and durable, your dog can go anywhere and hold everything.
This product features two packs each with a quick and easy attachment system, two roomy compartments with waterproof zip closures, reflective trim and piping - great for twilight adventures. A convenient handle for carrying bags when removed from the convert harness, removable velcro customizable badges, and each with an easy access outer pocket for storing items you need quick.
EzyDog's Convert Harness + Saddle Bags = Versatile Dog Backpack
Our dog harness plus saddle bags are more versatile than traditional dog backpacks and service dog vests. Service dogs fill many roles and positions from caretakers to guardians to emotional supporters. These dogs are literally taken everywhere! Why take multiple trips out to the car to pick up items such as dog bags, water, dog treats, or dog food for your best friend when he can carry it himself?
That doesn't mean you have to load him down like a mule, but it can mean a lot less hassle and stress throughout the day for both of you. The dog can also carry important items like medications for you so you don't have to carry around a tremendously heavy bag or purse. Let your big or small dog lighten the load with a dog backpack. Dogs love to work and carry things like a small backpack makes them feel like they are important and have a job or mission they are carrying out, and they'll love the extra attention and treats they receive.
SMALL SADDLE BAGS - Fits S & M Convert Harness
LARGE SADDLE BAGS - Fits L, XL & 2XL Convert Harness
Fitting Instructions
1. REMOVE VELCRO SIDE PANELS
2. PULL STRAPS THROUGH LOOP
3. TILT BAG DOWN TO IT'S FINAL POSITION - SEALING THE VELCRO
4. ATTACH VELCRO SIDE LABELS TO OUTSIDE OF SADDLE BAGS
16 Reviews
Size Large Saddle Bags for Large Harness on 60lb mix breed

I work with a service dog on a daily basis and he is wearing his harness under my desk as I type. I purchased the harness because I wanted these saddlebags to hopefully solve the ongoing travel dilemma of too much stuff. The saddlebags are *almost* perfect for my needs and the only way I can think to make them better would be to make the bags secure to the harness with a clip and then secure them using the hook&loop (velcro). it just takes too much time to thread the hook/loop strap through the little plastic rectangle and then secure it to be the perfect solution to traveling and going through security. That doesn't mean these aren't a wonderful product, because they are. One of the reviews I read stated that the large bags were too large for the large harness and thankfully I didn't find that to be the case for us. My SD can still move well with the bags packed although he does occasionally whack into a corner or two until he realizes he has extra girth. The bags themselves are well designed and there are two sections for which to store your (or their) stuff. The front has pockets which I used for documents and my kindle (in case) and the large pocket held ziplock of food, collapsible bowl, and water bottle (empty). The customer service at EZYDOG was wonderful.

The Convert Saddle Bags Are Great!!

I love these saddle bags. The zippered compartments are roomy and attach nicely to the Convert Harness by velcro and strap. The reflective piping is an excellent addition to making my dogs visible at night. Very well made. Thank you EZDog!

My service dog has always worn an Ezydog Convert harness. Having a service dog with me 24/7 means I always have a ton of stuff I have to carry around and I decided to let my dog share some of the load, so I ordered a pair of saddle bags. Originally I ordered the large which were much too big for my needs. The small bags are just right and don't look obscenely huge on his 50lb frame as the large bags did. They are extremely well made (just like the harness) and will clearly last a long time. The integration with the harness is excellent. Highly recommended!

Love the bags to go along with the convert harness! I am currently working with a GSD, already arthritic at the tender age of 1. 5 years. It is sad, but at least now she is able to expend some of that puppy energy with low impact exercises on the beach donning her convert harness along with the saddle bags, which hold her water bottles quite nicely. Thank you, Ezydog, for so many great products! I, along with my furry clients, may very well be your biggest fans!

I have the Large saddle bags since my dog wears the XL harness. The bags are awesome. The do not slide and fit well. They are very sturdy. Having the reflective is great at night. I am very pleased with all of ezydog products. These bags are bigger than what I needed for my moblity service dog. Customer is always great and I recieved my order in two days with standard shipping.

Best pack and harness design ever!

I just received my shipment of the convert harness and packs. I received them in great speed, just in time for our usual Thursday outings which the packs were very much needed. I have a service dog and the harness fits perfectly. I have a male 65-73 ib boxer. The large size works great. I am very pleased with their customer service in helping me out on ordering and questions. The packs did not slide and are shaped really well to my dogs body that the packs are easy to get into and take on and off without any difficultly yet they are very sturdy. The design is sleek yet very roomy, And water proof. My dog is a medical alert dog so it is very much helpful to have everything organized in his packs. I would highly recommend these prospects to anyone outdoors and wants a durable effective dog pack That is not flimsy, floppy lopsided or bulky, If you don't want any of those problems get this pack! The harness is sturdy and lightweight. The reflective I have not gotten to use yet, but they look really effective. Very pleased with these products.

Great product, Excellent customer service!

We ordered the CONVERT SADDLE BAGS and EzyDog Convert Harness for my 10 year old daughters Diabetic Alert Dog. I emailed customer service with her dog's measurements and they advised me on which size I should order. We are so impressed with the design of these items. We love the petite size of the harness and the saddle bags are even better than we imagined. They are exceptionally roomy and can carry all of her testing and insulin supplies. Because they can detach separately (unlike most dog "backpacks") it is really easy to access what we need quickly. The comfortable, snug fit of the harness keeps the saddle bags in place and it stays balanced on his back even if he only has on 1 saddle bag. I do not anticipate having to replace this product anytime soon, but if I ever do, I will buy these again!